For those of you who know anything about me or just a little about me, know that I am a big baseball fan. I enjoy trying to predict how the season standings will finish and who will win the awards. The great thing about baseball is you never really know for sure who will have a breakout year and each game is different. (there are other great things about baseball too)... so here are my predictions for the 2010 Major League Baseball Season... after you read this blog, be sure to check out my friend, Sean's blog, and his predictions at
http://mummblesrantings.blogspot.com/
I haven't read his predictions yet myself but I will after I finish mine.
My Predictions (* - wild card)

AL WEST:
Los Angeles Angels of Anaheim (91-71)
Seattle Mariners (88-74)
Texas Rangers (80-82)
Oakland A's (78-84)
Notes:
I hate that I am picking my favorite team, the A's, to finish last. I think they have some good core players, but their offseason moves made little sense. The Mariners got a lot better but I think their rotation is rather weak af
ter
Felix Hernandez and Cliff Lee
.
The thing that makes the Angels stand out the most as the team to beat is Manager Mike Scioscia(pictured).
AL CENTRAL:

Minnesota Twins (93-69)
Chicago White Sox ( 89-73)
Detroit Tigers (88-74)
Cleveland Indians (74- 88)
Kansas City Royals (72-90)
Notes:
Minnesota Twins star closer, Joe Nathan has been ruled out for the season which will probably cause the Twins to lose a few more games, but I still see them winning the Central. Let's just hope the 8 year-184 million dollar contract that the other Joe (Joe Mauer, pictured) doesn't go to his head and makes his production go down. The hardest thing for me to decide in the Central was who would finish last between the Indians and Royals.


AL EAST:
New York Yankees (99-63)
Boston Red Sox (94-68)*
Tampa Bay Rays (90-72)
Baltimore Orioles (84-78)
Toronto Blue Jays (62-100)
Notes:
By far the toughest division in baseball, I don't see how the Yankees won't repeat as AL EAST Champions.
Don't be surprised by the Baltimore Orioles this
year if they finish with a winning record. Nick Markakis and Adam Jones (pictured) give the Orioles
and promising future.
The Jays just suck.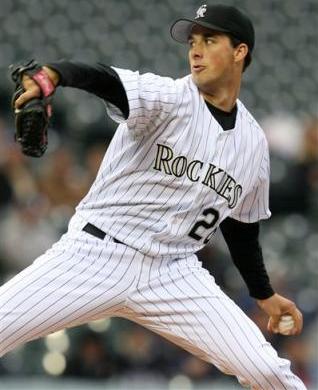 NL WEST:

Colorado Rockies (89-73)
Los Angeles Dodgers (88-74)
San Francisco Giants (86-76)
Arizona Diamondbacks (80-82)
San Diego Padres (72-90)
Notes:
The NL West looks to be the closest race in terms of the playoffs. I see the Rockies, Dodgers, and Giants as all have a legitimate shot at winning the West. If Colorado's Jeff Francis (pictured) can come back and do well after missing 2009 with an injury, then the Rockies probably have the edge.
NL CENTRAL:

St. Louis Cardinals (95-67)
Milwaukee Brewers (88-74)
Cincinatti Reds (85-77)
Chicago Cubs (81-81)
Houston Astros (78-84)
Pittsburgh Pirates
(74-88)
Notes:
St. Louis gets the edge here as they have great starting pitching and some big bats in Albert Pujols and company.
I figure the Reds will be a lot like the Orioles will be in the AL East. They can definitely give other teams a problem and have a pretty potent lineup. And even though they will have a tough season again, they will improve slightly and the Pirates' Andrew McCutchen(pictured) will continue to be exciting to watch
.


Notes:

This is the Mets' year, right?!? No. The Atlanta Braves will find themselves back in the playoffs in 2010. Highly touted rookie, Jason Heyward (pictured)
,
will prove that he belongs on the big stage. The Marlins will stay in the running to contend, but in the end, their pitching will let them down. Everyone will tune in to watch the Washington Nationals play when Stephen Strasburg
gets called upon, but they should also keep an eye on prospect, Ian Desmond.
WORLD SERIES

The World Series will see the New York Yankees take on the St. Louis Cardinals and the Yankees will win in 5.


POSTSEASON AWARDS:
AL MVP -
Joe Mauer
, Minnesota Twins

NL MVP -
Ryan Howard
, Philadelphia Phillies
AL Rookie of the Year -
Brian Matusz
, Baltimore Orioles

NL Rookie of the Year -
Jason Heyward
, Atlanta Braves

AL CY YOUNG -
Jon Lester
, Boston Red Sox

NL CY YOUNG -
Roy Halladay
, Philadelphia Phillies

AL Manager of the Year -
Ron Gardenhire, Minnesota Twins

NL Manager of the Year -
Tony LaRussa, St. Louis Cardinals

AL Comeback Player of the Year -
Justin Duchscherer
, Oakland A's

NL Comeback Player of the Year -
Tim Hudson
, Atlanta Braves